Akoya Pearls
Akoya Pearls Originated from Japan
Akoya pearls, also commonly known as Japanese pearls, are pearls from the akoya oyster (scientific name: Pinctada fucata martensii) native to Japan.
Akoya oysters are smaller in size than black lipped and White lipped oysters, and the size or akoya pearls are also smaller when compared, about 6 to 7 mm in diameter, and the largest pearls are about 12 mm.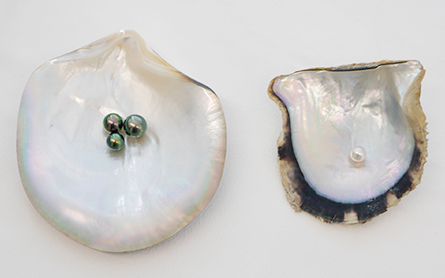 *Black lipped oyster and black lipped pearls (left) Akoya oyster and akoya pearl (right)
The noteworthy feature of akoya pearls is that each layer of nacre that determines the pearl's luster is very thin and dense compared to other pearls. The delicate and transparent pearl layers create highly reflective luster, and their elegant brilliance and soft colors are loved by women from all over the world including women in Japan.
Production Areas of Akoya Pearls
In the past, before pearl farming even started, many beautiful pearls were collected in Japan because the four seasons of Japan with each season having very different temperatures and climates were very compatible for akoya oysters to grow. The moderate underwater temperature change brought by each season and the rich nutrition carried by the Japan Current and Tsushima current provided a good stimulus to the biocycle of akoya oysters, resulting in formation of pearls with a fine and firm quality of nacre.
Outside of Japan, akoya pearls are mainly produced in Vietnam. Vietnamese akoya pearls are produced by exporting aakoya oysters from Japan. In Japan, pearls are cultured mainly in western Japan, including Mie prefecture, one of Japan's most famous pearl growing prefectures.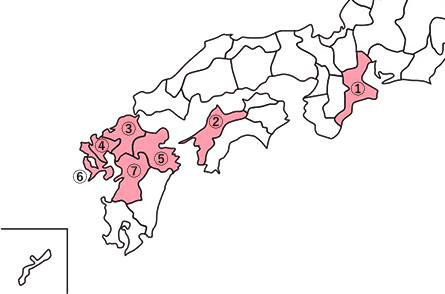 <Main production areas in western Japan>
1. Mie Prefecture: Shinmei, Katada, Fuseda, Funakoshi
2. Ehime Prefecture: Yusu, Kitanada
3. Fukuoka Prefecture: Ainoshima
4. Saga Prefecture: Karatsu
5. Oita Prefecture
6. Kumamoto Prefecture: Amakusa
7. Nagasaki Prefecture: Tsushima & Iki
The pearls hold unique characteristics depending on the farm. For example, farms in Yusu and Kitanada in Ehime Prefecture produce large pearls stably, while the farms in Katada, Fuseda and Funakoshi in Mie Prefecture mainly produce small pearls of 4 mm or smaler, called "Rin-dama". The farms in Tsushima and Iki in Nagasaki Prefecture are also famous for winning multiple awards, including the Emperor's Prize.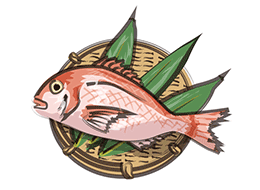 Stepping aside from pearls, many people think of tuna when it comes to feasting on an expensive fish in eastern Japanese region. In western Japan, people think of sea bream instead. Fukuoka prefecture has one of the largest catch of sea breams in Japan and the red sea bream farms in Naruto Strait, Akashi Strait and Uwajima are well known. Akoya oysters and sea breams, which are farmed mainly in western Japan, may have a lot in common with their habitat conditions.
What Colors are Akoya Pearls?
The Akoya pearls displayed on the store windows are mostly white. Natural akoya pearls however, each have very unique colors and there will never be a pearl with the same hue. Akoya pearls are classified into seven color types: pink, silver, cream, gold, green, blue, and and even black. Akoya pearls offers a wide range of colors. Nevertheless, white pearls are always the most popular perhaps due to the strong image of pearls to have "white color and round shape".
| | |
| --- | --- |
| *Akoya pearls at the time of harvest | *White akoya pearls with pink interference color |
History of Akoya Pearls
Akoya pearls has a long history in Japan. According to Gishi-Wajin-Den, from the beginning of the Zhengshi era, in year 247 to 248, when Jin dynasty united three countries of Wei, Wu, and Shu. The Queen of Wakoku, or known today as Japan, Iyo sent envoys to Jin dynasty with 5,000 white beads, two blue magadama as gifts as well as 30 male and female slaves. At that time, Japan was in the Kofun period, and white beads are speculated to be white pearls, and blue magadama are considered to be large jade beads. Japan is an island country rich in marine resources, and this historical writing shows that pearls, which are gems from the ocean, have been valued since the ancient times.
Also, there is an interesting episode of Kokichi Mikimoto, the founder of MIKIMOTO. When he had the chance to meet the Emperor of Meiji, Mr. Mikimoto said, "I'm going to put pearl necklaces on every woman's neck all around the world." Now women around the world enjoy the elegance and beauty of Aakoya pearls originated in Japan and wear them with different outfits. Kokichi Mikimoto's passion for pearls, his dedication and his efforts have created the exact world he once dreamt to see.