Black Lipped Pearls
The pearl oyster of black lipped pearl is black lipped oyster, scientifically named as Pinctada margaritifera.
Most pearls in ancient Europe, including a pearl in the famous painting of Johannes Vermeer's "The Girl with a Pearl Earring", were black lipped pearls. Back then, pearls were called Margarites in Greek and they were called Margarite in English. The scientific name of the black lipped shell, "margaritifera", is based on such etymology.
Black lipped oyster is the second largest pearl oyster after the White lipped oyster. Black lipped oyster has the dark green coloring along the margins of the interior of the shell that shines in all the colors of the rainbow with sunlight.
The thickness of one layer of nacre produced by the black lipped shell is as thin as 0.3 to 0.6 ㎛ (micrometers), and its quality is also very condensed. The nacre layer of Akoya pearl is considered to be particularly thin among pearls, is actually about the same as black lipped, 0.2 to 0.4 ㎛. Black lipped pearls have been attracting people for their beautiful, natural overtones that thin layers of nacre produce.
The size of black lipped pearls is about 9 to 10 mm, slightly larger than Akoya pearls. Due to the repeal of export control law led by the Tahitian government (* 1), pearls large as 12 to 13 mm have been decreasing in recent years.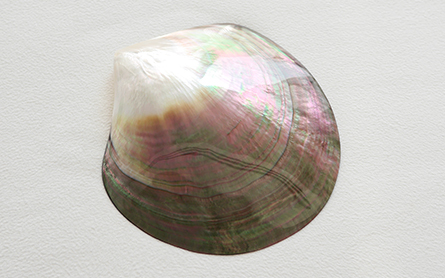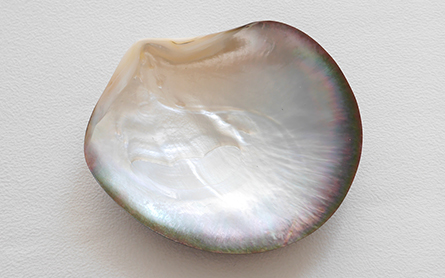 *Exterior and interior of black lipped oyster
(*1) Export Control Law of Tahitian Pearls
Tahitian grown black lipped pearls are considered the most beautiful black lipped pearls in the world due to their geographical uniqueness and the biological superiority of the inhabiting black lipped oysters. Since the late 1990's, the French Polynesia government (Maison de la Perliculture) has mandated that all exported Tahitian pearls must be inspected via X-ray and certified to have at least 0.8mm of nacre on each side of the pearl to ensure the quality of Tahitian pearls. This law was repealed however, due to strong demands from local pearl farmers in 2017, allowing any pearls to be exported.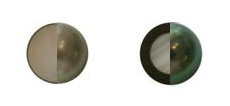 * Cross section through black lipped pearls / Cultured for approx. 6 months (left), approx. 24 months (right)
Difference in thickness of nacre layers is present
Colors of Black Lipped Pearls
Perhaps because of the strong impression of "black" in the name of black lipped pearls and black lipped oysters, people often imagine black lipped pearls are only dark colored pearls as their name suggests. In fact, In Japan, dark colored black lipped pearl necklaces are often seen at ceremonial occasions such as weddings and funerals, adding the formalness to the look.
However, if you carefully observe a black lipped pearl necklace, you can see that there are multiple colors (interference color) such as red and green, different in each pearl. These are the original colors of black lipped pearls.
The colors come in endless, such as red, green, orange and pistachio colors, and this wide range of pearl colors is one of the charms that only black lipped pearls have.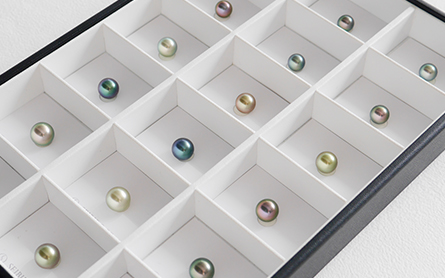 *All natural colors of black lipped pearls
Pearl color is determined by several factors. One of them is the protein pigment of the mother oysters. When the pigment of the pearl oyster's protein is yellow, it produces pearls like South Sea pearls and Akoya pearls, in white to cream and slightly pink colors. Black lipped oysters have three primary color pigments, red, blue and yellow, which allows them to produce a full color spectrum.

* "Peacock color", one of the most popular color of black lipped pearls
The peacock color has interference colors of green at the outer edge and red at the body, has been highly valued color of black pearls in the industry trade. Vivid hues of peacock colored pearls resemble divine beauty of peacock feathers.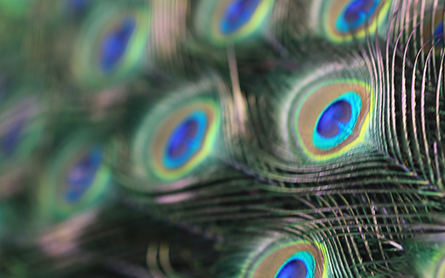 Shapes of Black Lipped Pearls
Black lipped pearls have a higher deformation rate than Akoya pearls due to the structure of mother oysters. Black lipped pearls have a characteristic of possessing rich variety of shapes, such as teardrop shape and circled pearls. The combination of rich colors and unique shapes can vary, and unless they are artificially processed, pearls will never be exactly the same shape.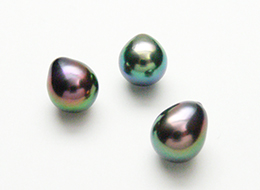 *teardrop shaped black lipped pearl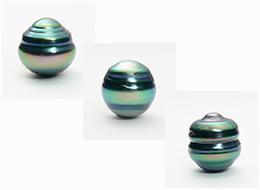 *Circled black lipped pearls
The pearl design experts carefully consider the combination possibilities among all the harvested unique black lipped pearls (* 2). Pairing special shapes that are not round is particularly difficult and even skilled designers take a considerable amount of time.
For example, drop shaped pearls are often used as earrings and pierced earrings, but the probability of oysters forming an ideal drop shaped pearl is extremely low, and finding a perfect pair of pearls from countless combinations of colors and shapes is extremely difficult. Matching a pair can take years, depending on size and color. A pearl to find its match is almost a miracle.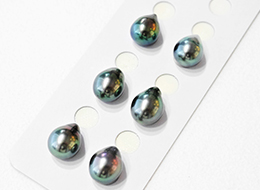 *Drop shaped pearls being paired
Some skilled pearl designers who handle pearl selection, pairing, and grouping remember all the pearl "faces" by looking just once. Even if she/he happens to see a pearl worn by a woman passing by on the street or on a photo she/he happens to see on social media, skilled designers can easily tell if they have seen the pearl already or not. This amazing skill has been acquired through working with pearls every day.
(* 2) "Pairs" and "Necklace making work"
Pairs: Matching pearl shapes and colors in 2 pieces of pearls for earrings and pierced earrings.
Necklace making work: Grouping of pearls for necklaces. For a pearl necklace, we usually select and group around 30-46 pearls in uniform hue and shape.
Production Areas of Black Lipped Pearls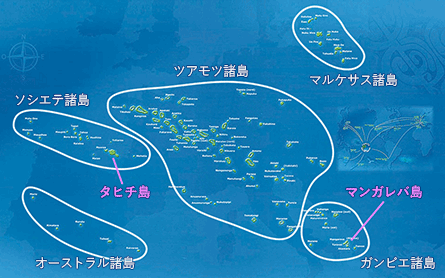 *Map of Tahiti
Tahiti, located in French Polynesia, is one of the largest farming areas that make up about 95% of the total cultured black lipped pearls produced. For this reason, black lipped pearls are also known as "Tahitian pearls".
People often think of Tahiti as a tropical island, but Tahiti has a variety of small and large islands located from 14 degree to 23 degree South latitude, and the Gambier Islands, which are located at the southeast terminus of the Tuamotu Archipelago, has a lower temperature and water temperature than typical tropical islands. When the water temperature is low, the nacre forms thin and more beautiful pearl layers compared to other areas where the black lipped oysters can live. Tahiti has a particularly low water temperature, is famous for its beautiful black lipped pearls.
For example, Mangaleva Island, located in the Gambier Islands, has a number of conditions suitable for culturing pearls. First, the island has a large lagoon; second, the water temperature is low located in the southernmost island of Tahiti and third, rich nutrients from the 500-meter-high mountains are poured into the lagoon in Mangaleva Island. The island is an ideal island for culturing black lipped pearl.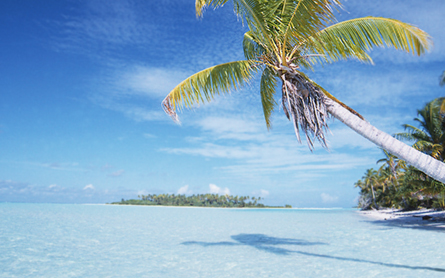 * A lagoon ofGambier Islands, claimed as "the most beautiful lagoon" in Tahiti
Black lipped pearls are also cultured in the Cook Islands, Fiji and Okinawa, but the size, environment and high water quality of the Tahiti lagoons are by far make the best cultivation area, and their superior environment is the reason 95% of black lipped pearls are produced there.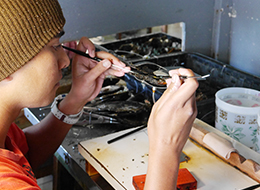 *Insertion of the nucleus into black lipped oysters.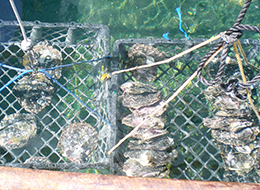 *oysters are polished carefully everyday to keep away bacteria.
Even when the environment is perfectly suitable for pearl cultivation and for mother oysters to live, if there are too many pearl farms culturing in the area, nutrition underwater will be depleted and the health of the mother oysters will be jeopardized.
Placing the pearl oysters in the farm alone will not make a good enough environment, as bacteria will start grow inside and cause illness, or nutrition for each oysters will not be evenly distributed unless oysters place are rotated.
Beautiful pearls are formed and grown by healthy pearl oysters. To form beautiful pearls, mother oysters must be strictly managed by the farms.
For this reason, pearl farmers work hard every day to create a better environment for pearl oysters, by picking up the pearl oysters from underwater and carefully polishing them one by one and adjusting the position of the pearl oysters for them to rotate. The quality of Tahitian pearls is maintained by the efforts of local farmers.
Delivering the Original Beauty of Pearls
The president, Koji Isowa, grew up being surrounded by pearls from an early age, and has nurtured the aesthetic eyes and sense of beauty to pearls. While he saw many pearls, Akoya pearls before being "minute dyeing" caught his eye. Akoya pearls are usually processed, but the natural colors are very attractive. He then had a dream to deliver jewellery made with unprocessed pearls for people to enjoy "their own natural beauty".
President Isowa joined Seibido Pearl in 1995. The processing technology for dyeing and "minute dyeing" pearls at that time was about to advance further. Around in 1996, pearls were being dyed in gold without leaving any holes on the surface and the processing technology called pre-processing started to advance. (*Please see to "Knowledge of Pearl" section for details of pearl processing) The problem was that in most cases, information on how pearls were processed was almost never disclosed and adequate information was not available then. President Isowa saw the situation back then as a problem in the market upon joining Seibido Pearl and sought for a solution to change it.
President Isowa determined that stopping the minute dyeing and dyeing of Akoya pearls was not possible since the treatment process has become standardized. He instead focused on black lipped and White lipped pearls. Black lipped and White lipped pearls then were mainly harvested in natural colors, and dyeing and minute dyeing had only just begun for these types of pearls. In addition, some selected black lipped and White lipped pearls have natural colors and luster already perfect for jewellery without any treatments such as dyeing or minute dyeing. President Isowa was convinced that the original beauty of black lipped and White lipped pearls can be made into jewellery and he prioritized investing in these types of pearls.
Consequently, President Isowa decided to focus on naturally colored Black lipped pearls. In 2001, Seibido Pearl made an official commitment to customer that only non-toned and undyed pearls will be offered as the "promise of Seibido Pearl." This commitment to offer only the naturally colored pearls is shown in the collections of mabe pearls with natural brown gold colors, Super Peacocks, signature collection of Seibido Pearl, and S-line Peacocks as a result.
Seibido Pearl, as a leading company that offers the original beauty of pearls, will continue to offer un minute dyeing and undyed black lipped pearls and White lipped pearls.