Abalone Pearls
Abalone pearls are pearls from the abalone (scientific name: Haliotis). The meat of this oyster is eaten as food. Abalone pearls are produced in Japan, the United States, Mexico, New Zealand, etc., and abalone farms are only operated in New Zealand. There are only a limited amount of cultured abalone pearls, and majority of these pearls form naturally without human intervention.
| | |
| --- | --- |
| *Interior of abalone shell | *Exterior of abalone shell |
Natural abalone pearls are mostly flat and have a horn-like shape. Such shapes are created because abalone shell's nacre, which forms pearl layers around nucleus, gets damaged by small insects and debris when the abalone, which is a single-shelled mollusk, moves through rocks.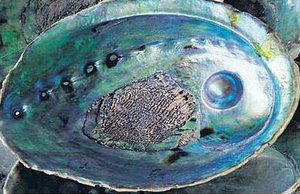 Abalone pearl farmers produce abalone pearls by gluing small dome-shaped disc made of resin to the inside of the abalone's shell and leaving it while the animal covers the insert with iridescent nacre. At the end of the culturing process, the meat is harvested and the mabe pearls are cut out of the shell.
The reason why culturing abalone pearls is very difficult is that the well-established mabé culturing process that inserts a nucleus into the shell does not work well with abalone shells since abalone shells tend to float and move often.
Another reason is that single shelled abalone is more likely to spat the nucleus compared to bivalve like black lipped or white lipped oysters. * Please see also: Mabe Pearls
Cultured abalone pearls and wild abalone pearls differ in shapes, but the most distinctive feature is their beautiful colors. Abalone pearls in Japan and Mexico often have pale colors such as distinctive soft gray or blue. Abalone pearls from the United States and New Zealand have vivid, bright colors that resembles deep ocean. All colors are beautiful and are widely loved as rings, pendants and brooches. (Picture in bottom: dome shaped cultured abalone pearls)
| | |
| --- | --- |
| *Pale colored abalone pearl | *Brightly colored abalone pearl |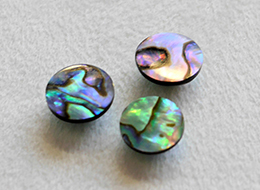 * After pearls are cut out of the shell, the abalone shell pieces are glued on the flat surface of the pearls

* shapes of nucleus influence shapes of pearls
※1~2 reference 
www.karipearls.com/blue-pearl.html / Kari Pearls
「Blue PearlCulturing Abalone Half Pearls」Blue pearl, the story of New Zealand Eyris Pearl
Conch Pearls
Conch pearls are produced by the queen conch (Scientific name: Strombus gigas) found mainly in the Caribbean. The queen conch is a large oyster, like a sea snail with a spiral-shaped shell, that is about 23 cm.
Culturing conch pearls is technically challenging and all conch pearls are wild pearls. Since the quality and production are not controlled by farmers, conch pearls that qualify as jewellery gems are very rare. Some suggest the probability of producing jewellery quality pearl is one out of 10,000 shells (37500 kg worth).
The rarity of conch pearls and the fact that conch pearl is non-nacreous, conch pearls are treated differently from oyster pearls. They are traded based on the size by carat weight, a unit used for measuring gemstones like diamonds instead of "momme", a unit usually used for oyster pearls. The price for conch pearls is outstanding among pearls. For example, a conch pearl with a diameter of about 5 mm can cost USD4,500 to 5,500. Furthermore, the finest examples of conch pearl often exhibit a "flame-like structure" that's visible to the naked eye. They are considered to be even more valuable.
There are only a few conch pearls found annually with beautiful hues of wild pearls and the brilliant luster. Conch pearls are truly miraculous pearls created for the very special wearers.
| | |
| --- | --- |
| *The queen conch mollusk | * Conch pearl's beautiful flame structure |
Keshi Pearls & Baroque Pearl
Many people have the image that "pearls are round.". In fact, true round-shaped pearls, while a major goal of pearl farmers everywhere, remain a tiny percentage of each yearly harvest. What other shapes do pearl form?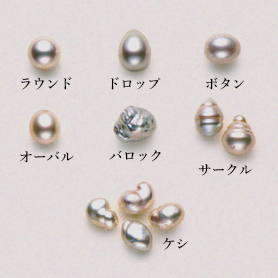 Pearls come in various shapes such as drop, button, oval (egg shaped), baroque, circle, flake, keshi, twin(snowman shaped) and more. Pearls are formed in mother oysters and their shapes, colors, and sizes vary significantly. The unique shape of the pearl is integrated in the jewellery designs without any shape modifications and is loved by many people, including designers and pearl lovers.
| | |
| --- | --- |
| * "Inaho", a brooch made with mabe keshi pearls | * "Pear" a pendant made with an oval black lipped pearl |
This section further explains "keshi pearls" and "baroque pearls".
keshi pearls
Keshi is a Japanese word that stands for "poppy". Keshi pearls are small pearls that resemble poppy seeds, regardless of the type of pearl shells. Another important aspect of Keshi pearls grow without a nucleus.
Round pearls are formed by the technician carry out the inserting operation a round shaped nucleus and epithelial cells of the mantle into the mother oyster, and then the nacre layers create a pearl. However, Keshi pearls do not have nucleus because Keshi pearls are formed by natural accident like: peels off the epithelial cells of the mantle, or intrusion the small insect or grains of sand. Due to this, Keshi pearl have a nacre which is thick and highly lustrous.
Further, natural keshi pearls offer wide range of colors and shapes, since they are without round shaped nuclei and no farming techniques that control pearl colors have been applied. Keshi pearl's rounded, smooth edges are widely used as a bracelet or long necklaces by connecting them, and they are also commonly used as earrings and pendant tops.
| | |
| --- | --- |
| * "Bouquet" a pendant with colorful black lipped keshi pearls | * Akoya keshi pearls of various sizes |
Baroque Pearls
Baroque pearls are named after a Portuguese word "baroque". As its name suggests, they are not round shaped pearls, but have irregular shapes that cannot be categorized as buttons or drops. Baroque pearls come in every cultured pearl type like keshi pearls. In recent years, baroque pearls have been gaining popularity for their one and only, unique shapes.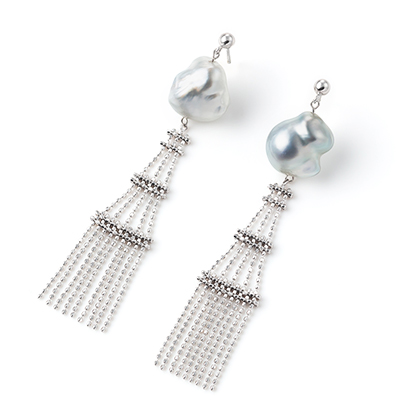 *Earrings with White lipped baroque pearls
Mabe Pearls
Mabe pearls, also known as "Hankei" pearls(*hemi-spherical pearls).
The mabe oyster (Pteria penguin), which grows mabe pearls, is also commonly known as the penguin's wing oyster, due to shell's shape resembling an expanded penguin wing when the shell is opened. The mabe oyster is a very large mother oyster and it is about 20 -30 cm long. The main production areas of mabe pearls are Amami Oshima of Japan and the Philippines, which inhabit relatively warm water. Amami Oshima, the northernmost point of the mabe oyster habitat, is also famous for producing beautiful "Hankei" pearls.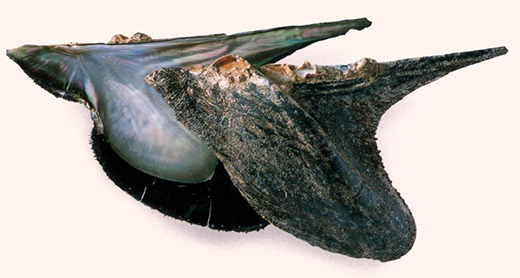 * Mabe pearl oyster
Mabe pearls are often referred to as "Mabe pearls are "Hankei" pearls and "Hankei" pearls are mabe pearls." The mabe oyster and mabe pearl farming technique are the reasons why mabe pearls are harvested as "Hankei" pearls.
There are two main types of pearl cultivation: ""the method of inplantation of a bead nucleus and small portion of mantle tissue called "piece" into an mother oyster's body"" and ""The method of gluing a hemi-spherical nucleus inside the mother oyster's shell"".
The former method is used for round pearls and the latter grows "Hankei"(*hemi-spherical pearls) pearls.
Mabe oysters have very strong adductor muscles because they live in areas with high tides. Mabe oysters have very strong adductor muscles because they live in areas with high tides. Even after the success of inserting operation, they tend to spat the nucleus or hurt themselves with their own strong muscles. Furthermore, due to the structure of the mabe oyster, inserting operation for round pearl should be cut a vital spot of mother oyster. In addition, even if the operation succeed, almost they became weak or illness. Hence, culturing round pearls out of mabe oysters was considered technically impossible, and "Hankei" pearls became the mainstream instead.
| | |
| --- | --- |
| *Blistered mabe pearls | |
Mabe pearls have a special characteristic of having great quality of nacre, since each layer of nacre is very thin and dense even when compared to other pearls. The delicate luster and nacre have beautiful rainbow-colored interference color, which is also different from the white Akoya pearls. The beautiful color shining from the inside of the pearls leaves a unique presence and pearls are popularly used as earrings, pendants and rings.
Miraculous Round Pearl
Mabe "Hankei" pearls(*hemi-spherical pearls), generally have white hue. Round mabe pearls however, have a very deep and distinguished brown gold color that is not found in other pearl oysters.
As mentioned earlier, cultivating method for mabe "Hankei" pearls have now been established, and "Hankei" pearls are distributed stably to the market. But, There was once a pearl farm that succeeded in culturing round shaped mabe pearls, first time in the world.
Round mabe pearls were cultured in the farm in the Philippines and they naturally have the stunning brown gold color that resembles the sunset in Manila Bay. Without the technical difficulties, round mabe pearls with outstanding luster and beautiful color might have been distributed and they might have been as popular as Akoya pearls.
Unfortunately, the only pearl farming expert who had the technique of cultivating round mabe pearls has passed away, and the only existing pearls are the ones already on the market and the ones owned by Seibido Pearl. The perfectly round mabe pearls are by-product of continuous efforts and wisdom, and they teach us the true value of pearls that cannot be measured by price alone.