Services
Certificate of Warranty
All staff members of Seibido Pearl wish for our customers to enjoy the luster of real, high-quality pearls for many years to come.
For this reason, Certificate of Warranty is issued for all products by Seibido Pearl as a proof of our commitment to quality, so our customers can enjoy wearing their jewellery with peace of mind.
Our Certificate of Warranty states pearl's origin, size, details of jewellery parts, as well as the grade of pearl evaluated accordingly to the strict standards of Seibido Pearl.
Up on request, the Certificate of Authenticity can be issued for your jewellery by the Pearl Science Laboratory or Pearl Institute Co., Ltd. (extra fee will be charged). For more information, please feel free to contact us at (0120-898398) or via inquiry form.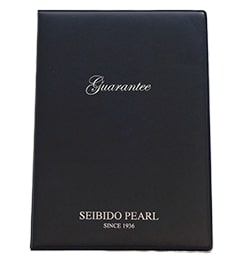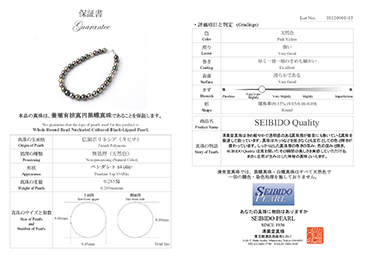 After Sales Service
Restringing
Pearl necklaces sometimes need to be repaired in case of a large gap being formed between the pearls of the necklace or the broken thread. In such cases, please send your Certificate of Warranty and the product enclosed together to Seibido Pearl. We will restring for free for the first time.
Send to:
Seibido Pearl Co., Ltd.
〒106-0046 3-12-4 Moto-azabu, Minato-ku, Tokyo, SP Moto-azabu 401
Ring Re-sizing Service
We can resize your Seibido Pearl rings in events like passing down the ring to your family or loved one, or if you wish to start wearing your ring on a different finger.
Some rings require a special technique due to their unique design. Seibido Pearl can offer a resizing service for your precious ring with our exclusive network of highly skilled experts.
Remodeling
Ever bought jewellery but didn't fit your image and lifestyle? Seibido Pearl offers a consultation service for simple remodeling of our jewels.
Please do not hesitate to contact us at (0120-898398) or via the inquiry form.