Seibido Pearl specializes only in high quality pearls. Among them, Super Peacock, exceptionally fine and exceptionally rare pearls, represent the top 0.1% in the harvest of all black lipped pearls. Super Peacock pearls are the most iconic pieces of Seibido Pearl, and it has been branded as the world's highest quality of black lipped pearls.
Most of black lipped pearls are cultured inside of butterfly shaped black lipped oysters. Pearls cultured inside of black lipped oysters tend to be dark colored, and the name of the shell also gives the impression of pearls being colored in black. Super Peacock, black lipped pearls with brilliant color are exceptionally rare, only one pearl can be found out of a thousand black lipped pearls.
In addition, the superior quality of Super Peacock, meets the highest standards of Seibido Pearl in all six conditions: luster, nacre thickness, surface, flaw, shape and color. The iridescent luster of the pearls draws attention from everyone who sees. The beauty of Super Peacock resembles the ocean for its deep emerald green color and a feather of peacock as graceful god's work fallen from the sky; the beauty is cherished by owners forever.
Through Super Peacock's journey from the sea of Tahiti to our customers, the wisdom, effort and care of the people are poured into the handling process. The beauty that resembles the natural scenery does not fade over time. Super Peacock is the desirable pearl that becomes a lifelong partner of the owner and be passed down in a family for generations.
Super Peacock's nuanced and gorgeous colors change the image that black lipped pearls are only for formal occasions. Super Peacock can be worn daily as a fashion item that embellishes mature outfits and the piece shines through wearer's personality as well.
* All black lipped pearls, White lipped pearls, and mabe pearls distributed by Seibido Pearl are all natural colors and have never been subjected to any chemical treatment. Product images are for illustrative purposes only and may differ from the actual product. Prices may be changed at any time without further notice. We reserve the right to change our product's prices at any time without further notice.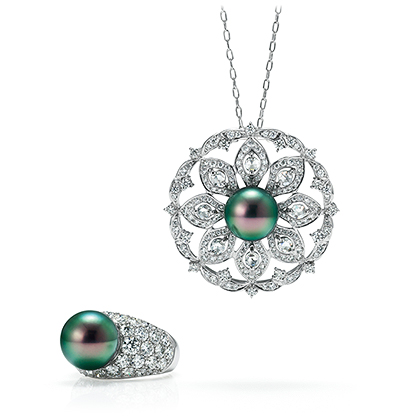 * Click image to enlarge