"What defines a beautiful pearl?" Founder's Philosophy Seibido Pearl's Promise
Award-Winning Pearls Iconic Pearls Seibido Pearl CO.,Ltd. Access
"What defines a beautiful pearl?"
Seibido Pearl has pursued the beauty of pearls across three generations ever since the founder, Kunihiro Isowa initially started the business. From the ancient times, people regarded pearls as gemstones and were moved by the beauty of pearls. We believe that delivering that beauty and enthusiasm is our mission as a pearl jeweler.
As a pearl jeweler that offers high quality pearls that are top 1% of the whole harvest, we look closely at each pearl, and perfect them using all necessary processes and materials. As a result, pearl jewellery created by Seibido Pearl does not only give the first impression of being "beautiful" but goes further by impressing the wearers.
There is not an easy answer for creating jewellery that can impress the wearers. This is the reason why every staff member of Seibido Pearl is always up for new changes, ideas, and challenges. Seibido Pearl never stops facing our customers. We create pearl jewellery infused with our philosophy and deliver them to our customers.
Even though there is no correct answer in jewellery making, we continue to answer the question "What defines a beautiful pearl?" using one definition:
"A pearl with many fine, translucent pearl nacre layers around it"
We hope you enjoy seeing and wearing Seibido pearl jewellery, and by doing so, we hope we can share with you our never changing philosophy, our passion for pearls, and our courage to take on new challenges.
CEO
Koji Isowa
Founder's Philosophy
"Pearls are pure and beautiful."
The name of "Seibido Pearl (清美堂真珠)" is named by founder Kunihiro Isowa,
from the idea that pearls are pure and beautiful.
(The kanji for 清美堂, 清 and 美, mean "purity" and "beauty" respectively.)
His philosophy does not only apply to pearls but also applies to the enterprise and employees.
Being "pure and beautiful" means being honest.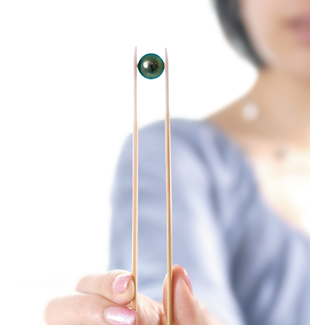 Without making any compromises,
From the pearl is harvested
Until it turns into a jewellery
We keep pursuing high quality.
Although a pearl never speaks its story,
We deliver story of the pearl and our passion for quality to our customers
as a trust-worthy pearl source for customers to return with trust in the future.
Seibido Pearl has been reminding ourselves where we stand, where we have been and where we are going from the philosophy written in the name of our business.
Seibido Pearl's Promise
"Story of Pearls"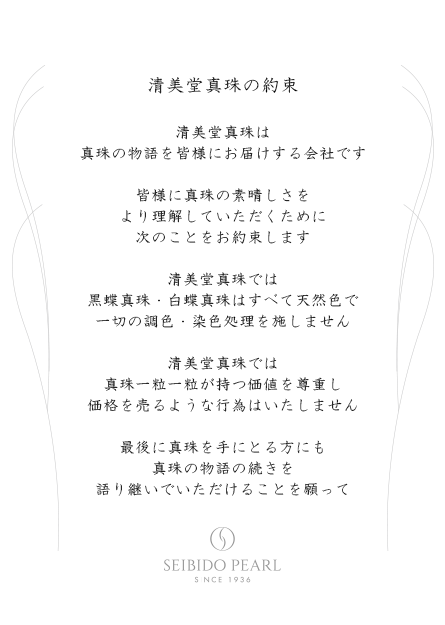 By the time beautiful pearls are harvested and delivered to us,
so much passion and wisdom filled drama also grew with them.
But the pearls never can speak
of their beautiful stories themselves.
We find the story of pearls,
and go even further to find the charm of the pearls
for our customers to understand.
We stated our mission as "Seibido Pearl's Promise" and have been keeping the promise ever since.
Award-Winning Pearls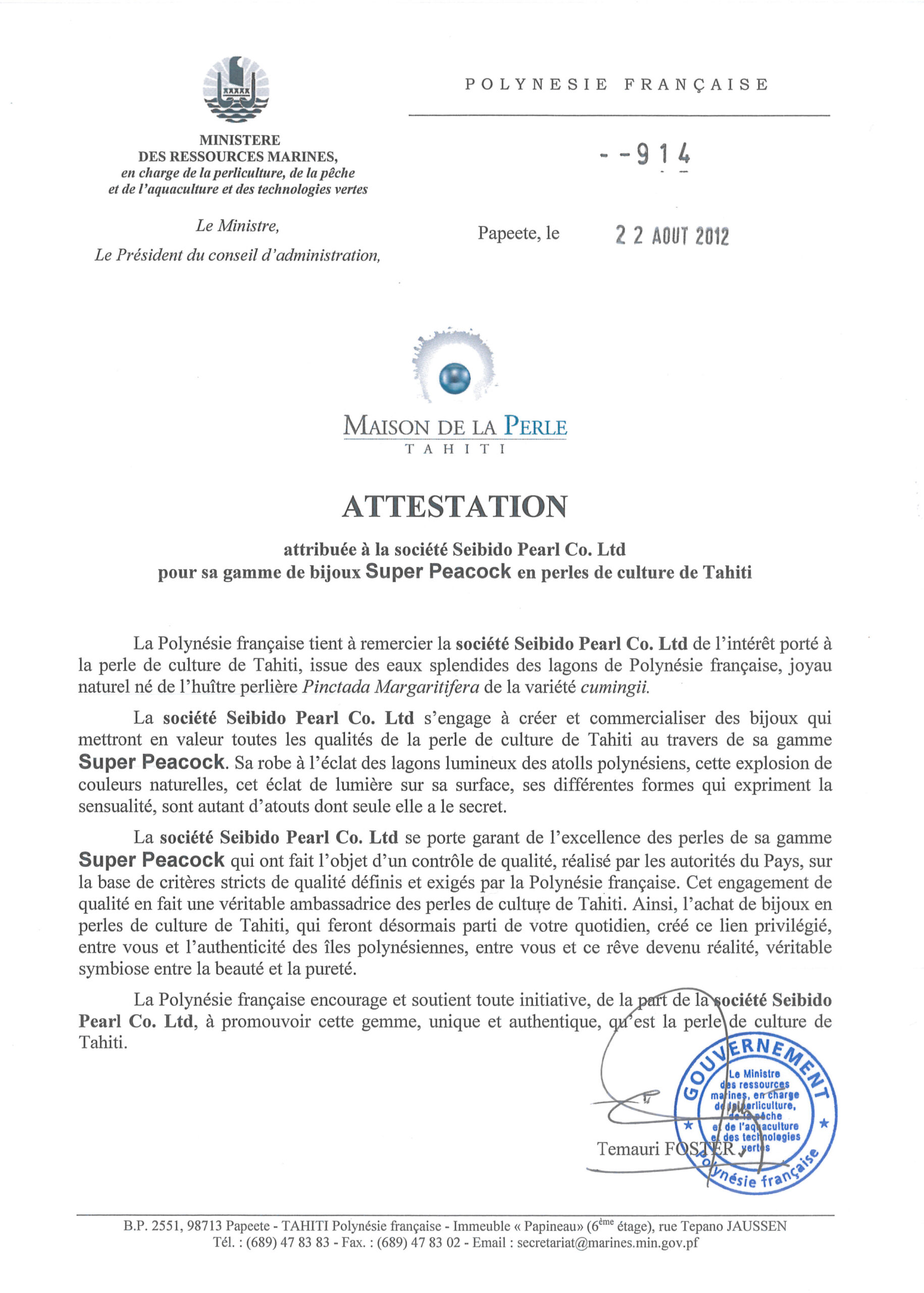 ―22nd, August, 2012 「Super PeacockⓇ」received endorsement from Tahiti.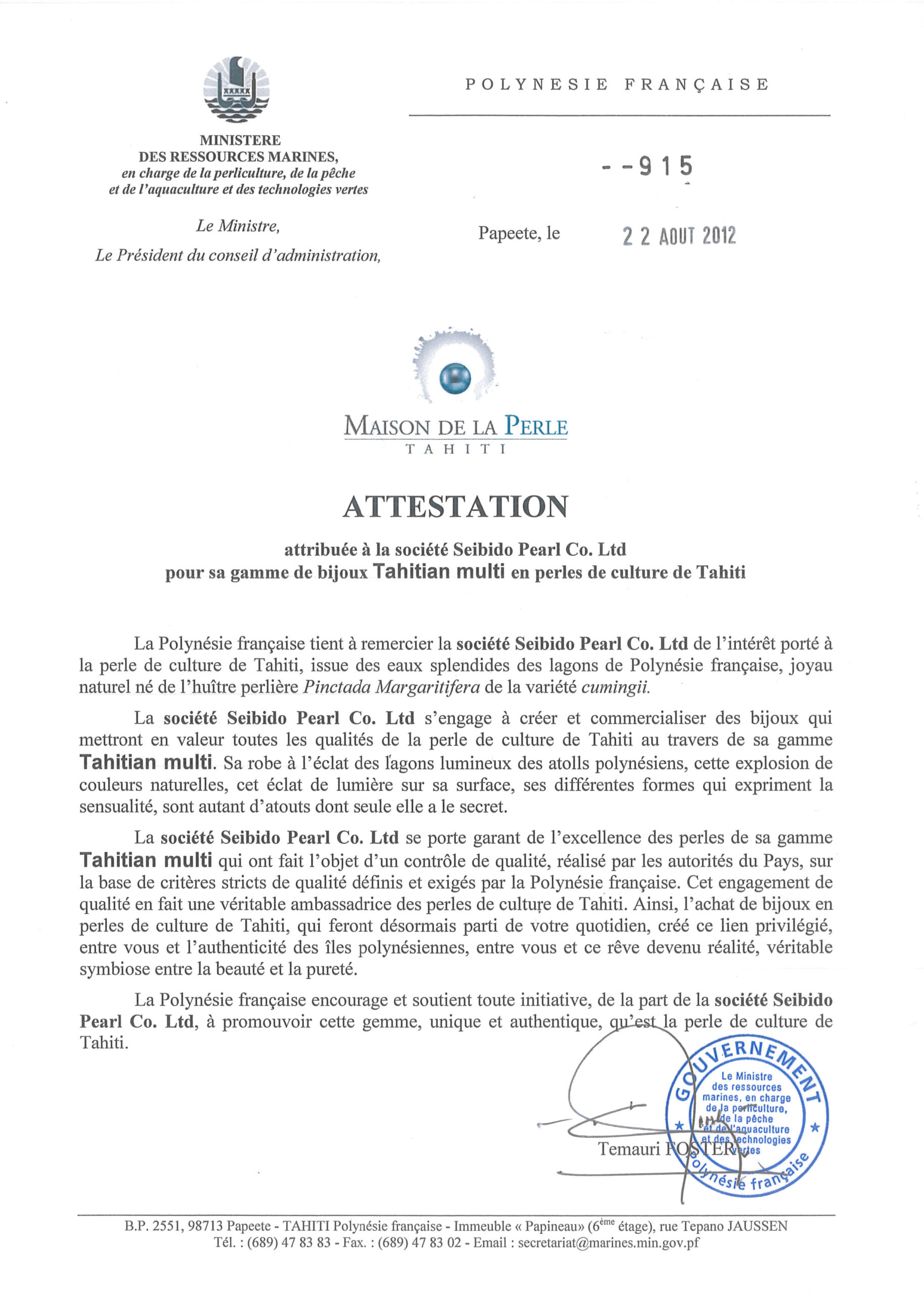 ―22nd, August, 2012「Tahitian MultiⓇ」received endorsement from Tahiti.
"Raiatea After the Rain"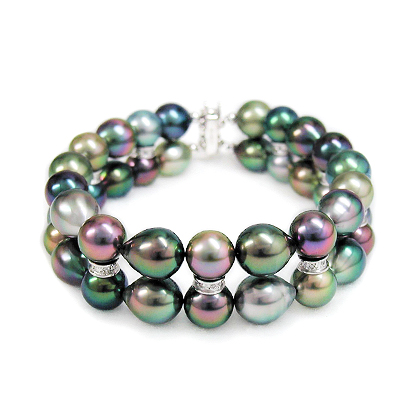 ―Tahitian Pearl Trophy JAPAN 2003/2004 Gold Award winner.
The inspiration for this bracelet came from the vivid flowers, after the rain intensified their colors with rain drops. This bracelet was made by taking advantage of beautiful shapes of pearls brought by nature, and by paying particular attention to pearl luster to recreate sunlight reflected on rain drops.
「Tear of Gaia」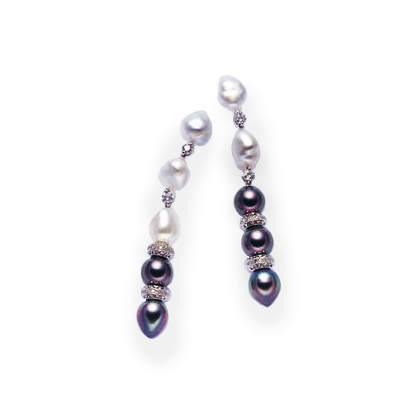 Tahitian Pearl Trophy JAPAN 2005 Earring 3rd prize.
「Space Journey」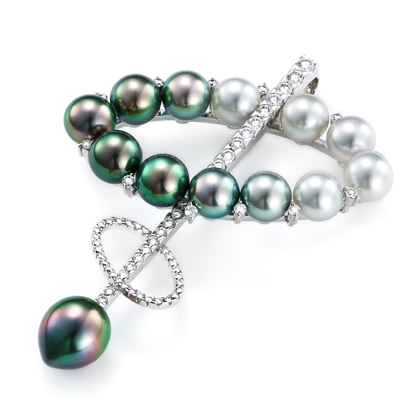 Tahitian Pearl Trophy JAPAN 2007 Pendant 3rd prize.
Iconic Pearls
"POESIA"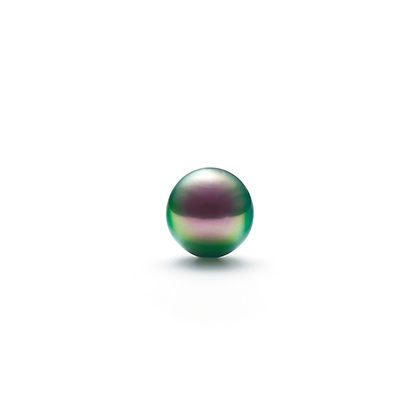 ―The ultimate, the Tahitian Grand Prix-winning pearl
In 2011, to celebrate the 50th anniversary of the successful cultivation of pearls in Tahiti, the Tahitian government-sponsored contest for "the most beautiful Tahitian black lipped pearl of the year" was held. Poesia is the pearl that won this award. "Poesia", which means "poetry" in Italian, is an oval pearl, 11.8mm in peacock color, with bright green, yellow and red interference color. After receiving an offer from the producer, the pearl became a collection of Seibido Pearl.
"MOKOTO"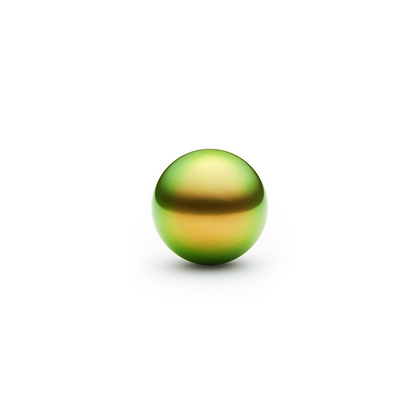 ―18mm black lipped pearl bearing the name of the birthplace of the President.
This miraculous pearl produced in 2013, has a rare natural pistachio color, very excellent nacre quality and a size exceeding 18 mm. Pearls exceeding 18 mm in size usually take over ten years to be formed and the culturing process must start inside of a young oyster.
The pearl was named "Mokoto", after the name of the mountain that symbolizes Mangareva Island, the hometown of President Tahiti at the time.
"TOKIAMA"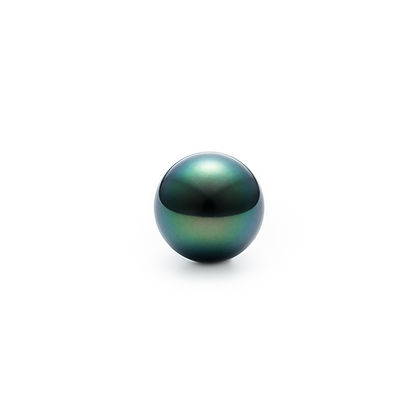 ―Large, never-seen-before pearl with grand bleu color
"TOKIAMA" is the name of a woman who is an apostle of God worshiped in Tahiti and is another name for Talave Island, located next to Mangareva Island. The chairman of the Mangareva Island Pearl Culture Association at the time saw this large pearl with beautiful deep blue hue and gave this name since the chairman believed that "beautiful pearl deserves a beautiful name." This 2014 harvested black lipped pearl was also passed directly from the producer to Seibido Pearl and later was sold as a ring.
"GOLDEN QUEEN"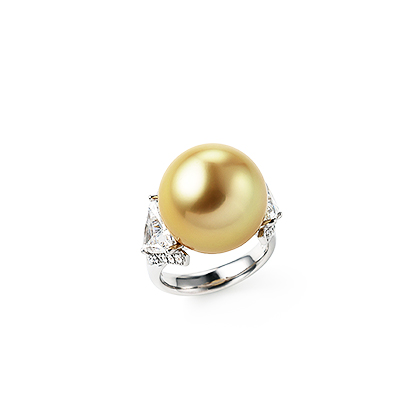 ―The largest, golden colored White lipped loose pearl
This round loose pearl was harvested in 2017, in Myanmar. Seibido Pearl has dealt with ten million pearls and this pearl is the largest, gem-quality golden-colored pearl we have ever seen. After successful negotiation between Seibido Pearl and the producer, the pearl became the collection of Seibido Pearl. The pearl was turned into jewellery after two years and the jewellery was featured on magazines.
Seibido Pearl CO.,Ltd.
Foundation
February 4, 1936
Establishment
April 8, 2009
Representative
Koji Isowa, CEO
Business details
Export and import pearls and jewels. Production And selling for domestic and overseas.
Office
3-12-4, Moto-Azabu, SP Moto-Azabu#401, Minato-ku, Tokyo 106-0046 Japan
Contact
Contact form
WEB
https://www.seibidopearl.co.jp
Main Banks
Sumitomo Mitsui Banking Corporation. Roppongi Branch
Resona Bank, Limited. Ueno Branch
The Minato Bank, Ltd. Tokyo Branch
MUFG Bank, Ltd. Ebisu Branch
Company history
1936
Founded in Ise, Kumamoto Prefecture and start up pearl culture.
1952
"Seibido pearl store" established in Kobe, Hyogo Prefecture.
1989
Company name changed to "Seibido Pearl"
1996
Seibido Pearl Tokyo Branch founded.
1999
Seibido Pearl Tokyo Branch established.
2005
Head office "Seibido building" completion.
2020
Head office "SP Moto-azabu" completion.
Access
Train
Tokyo Metro Hibiya Line or Toei Subway Oedo Line 「Roppongi」 Station
Tokyo Metro Namboku Line or Toei Subway Oedo Line 「Azabu-juban」 Station
Bus
Toei Bus 01 「Shibuya Station」→「Roppongi Hills」 or 「Roppongi Keyakizaka」
Car
Metropolitan Expressway 「Iikura」